A Room for Elisha Bible Craft

This fun popsicle stick craft is about the time a Shunammite couple welcomed Elisha and provided a room for him. It will help children remember that God is pleased with those who are kind to others.
Bible Text: 2 Kings 4:8-13
Note: This craft is also available as a downloadable PDF.
Supplies List:
Construction paper
Popsicle sticks
Glue
Crayons or colored pencils
Instructions:
Step 1. Give each child a piece of construction paper and instruct them to draw a room scene that would include the things that were included in Elisha's room (see image).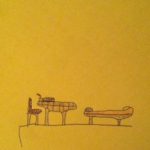 Step 2. Next, give the children several popsicle sticks and allow them to build the walls and roof for Elisha's room (see image).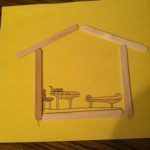 You can also see a list of the types of free, printable Bible activities we provide on the site.
For other related activities, see the links below.