God Helped Gideon To Be Courageous Bible Craft

This torch craft will help remind children of the miraculous way God blessed Gideon's courage by using torches in the battle against Israel's enemies. There are many things in life that may frighten us (and children), but God is powerful and able to give us victory in all of life's battles.
Note: This free craft is also available as a downloadable PDF.
Bible Story: God Helped Gideon To Be Courageous
Bible Text: Judges 6—7
Supplies List:
Orange and yellow construction paper
Bathroom tissue rollers (1 per student)
Glue
Scissors
Crayons
Instructions:
Step 1. Give children a sheet of yellow and a sheet of orange construction paper. Instruct kids to begin cutting the sheets into feather shapes, some large and some small.
Step 2. Give students the tissue paper rollers and instruct them to use their crayons to color the roller to resemble wood. This will be the wooden base of the torch.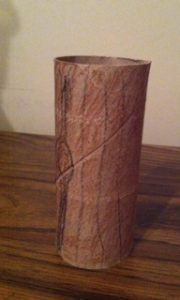 Step 3. Using a glue stick, guide students in gluing the yellow and orange papers to the inside of the tissue paper roller. Keep layering the papers to create a yellow and orange flame.
You can also see a list of the types of free, printable Bible activities we provide on the site.
For other related activities, see the links below.