God Protected Baby Moses Bible Craft

Note: This craft is also available as a downloadable PDF.
Bible Story: God Protected Baby Moses
Bible Text: Exodus 1; 2:1-10
Suggested Learning Outcome: This 3-D craft will help children learn about and remember the miraculous plan God had to keep Baby Moses safe.
Supplies List:
Cupcake papers (1 per student)
Green construction paper
Blue construction paper
Felt squares
Cotton balls (1 per student)
Scissors
Glue
Stapler

Teacher Preparation: Pre- cut 2 ½ in. felt squares (1 per student). Pre-cut half sheets of blue construction paper (1 per student) and quarter sheets of green construction paper (1 per student) (see image).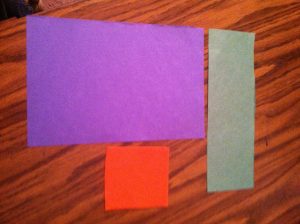 Instructions:
Step 1. Give each student a cotton ball to use as baby Moses and a square of felt to use as his blanket. Emphasize to the students that God has a special plan for every baby, just like He had a special plan for baby Moses. Instruct students to wrap the baby in the blanket. Teachers can secure the blanket with one staple (see image).
Step 2. Give students the blue and green construction paper that has been pre-cut. Explain to students that the blue will be the water that Baby Moses floated on and the green will be the grasses God used to hide him in. Instruct students to apply glue to the very top of the long side of the blue paper. Apply the green paper on top and then guide the students in folding the green paper back half way so that the green paper creates a small wall (see image).
Step 3. Guide students in cutting fringes into the top of the green construction paper to create grass (see image).
Step 4. Glue the cupcake paper to the center of the water, symbolizing the basket which God used to keep Moses in the river. Instruct students to place their Baby Moses into the basket (see image). Do not glue the baby in, but rather encourage students to use this craft at home to re-enact the story of Baby Moses for their parents. Young children will enjoy placing Moses in the basket and taking him out again.
You can also see a list of the types of free, printable Bible activities we provide on the site.
For other related activities, see the links below.