God Took Care of Paul and Silas Bible Craft

Note: This craft is also available as a downloadable PDF.
Bible Story: God Took Care of Paul and Silas
Bible Text: Acts 16: 16-40
Suggested Learning Outcome: This paper chain craft will help kids learn the story of God's care for Paul and Silas in prison and remind children that even in sad times, God is with us and will take care of us according to His will.
Supplies List:
Construction paper strips (five per child)
Tape
Markers
Teacher Preparation: Pre-cut strips of construction paper. You will need five per child.
Instructions:
Step 1. Give each child five paper strips and instruct them to write or copy the words, "I Am With You Always" (see image) on the strips.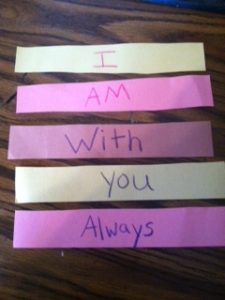 Step 2. Guide children in making the strips into a paper chain (see image).

You can also see a list of the types of free, printable Bible activities we provide on the site.
For other related activities, see the links below.