Jesus Blessed the Children Bible Craft

In Mark 10, the Gospel writer recorded a beautiful story about Jesus welcoming the children and blessing them even in the midst of a very busy schedule. What great love Jesus showed for these precious kids! This simple heart craft will help remind kids that Jesus loves all children no matter what.
Note: This free craft is also available as a downloadable PDF.
Bible Story: Jesus Blessed the Children
Bible Text: Mark 10:13-16
Supplies List:
Construction paper hearts of different sizes
Crayons
Glue
Teacher Preparation: Pre-cut several construction paper hearts of descending sizes, at least 5 sizes per student. On the smallest hearts, write "Jesus Loves Me No Matter What."
Instructions:
Step 1. On the largest heart have children write or copy around the edges, "Jesus Loves Me." On the next smaller heart have kids write, "When I'm Happy, When I'm Sad." On the next smaller heart have students write, "When I'm Good," and on the next smaller heart, "When I'm Bad."
Step 2. Guide kids in carefully gluing the hearts one on top of the other, largest to smallest, with the smallest heart on top with the words, "Jesus Loves Me No Matter What!."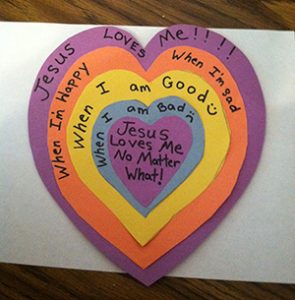 You can also see a list of the types of free, printable Bible activities we provide on the site. 
For other related activities, see the links below.