Jesus Healed a Royal Official's Son Bible Craft

When Jesus healed the son of a royal official, He was demonstrating that His power was not limited to physical proximity. He could heal anyone in any location. Jesus is truly the Lord of all creation and isn't limited by anything. This adorable, super simple craft will help children remember that Jesus can heal us also in order to accomplish His purposes.
Note: This free craft is also available as a downloadable PDF.
Bible Story: Jesus Healed a Royal Official's Son
Bible Text: John 4:46-53
Supplies List:
Construction paper
Crayons
Glue
Band-aids (at least 2 per student)
Teacher Preparation: Pre-cut construction paper hearts, one large and one smaller for each child.
Instructions: Have children write or copy "Jesus Heals" on the smaller heart. Guide the kids in creating a cross on the heart with their band-aids. Next, have children mount the smaller heart onto the larger heart. You can encourage children to jot down or draw pictures of things they believe Jesus can heal.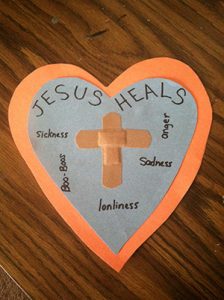 You can also see a list of the types of free, printable Bible activities we provide on the site. 
For other related activities, see the links below.