Jesus Healed A Woman With A Crooked Back Bible Craft

Note: This craft is also available as a downloadable PDF.
Bible Story: Jesus Healed a Woman With A Crooked Back
Bible Text: Luke 13:10-17
Suggested Learning Outcome: This handprint craft will help remind children that miracles happen with a touch of Jesus' hands.
Supplies List:
Ribbon
Construction paper
Crayons
Glue
Instructions:
Step 1. Give children a piece of construction paper and instruct them to trace their handprint. Take each child's handprint page and lay it on top of 3 other pieces of different colored paper. Carefully cut out four handprints (see image).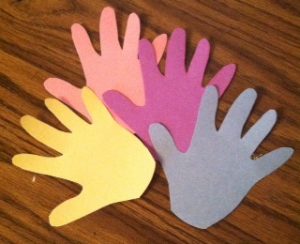 Step 2. Guide children in writing or copying the words, "With A Touch of His Hands" onto the handprints. You will need to put more than one word on two of the handprints (see image).

Step 3. Give each child a length of ribbon and assist them in gluing the handprints to the ribbon to create a healing hands banner (see image).

You can also see a list of the types of free, printable Bible activities we provide on the site.
For other related activities, see the links below.