Mary and Martha Bible Craft

Note: This craft is also available as a downloadable PDF.
Bible Story: Mary and Martha
Bible Text: Luke 10:38-42
Suggested Learning Outcome: This puppet craft will give children the opportunity to act out the story of Mary and Martha.
Supplies List:
Craft sticks
Small craft eyes
Felt
Yarn
Glue
Instructions:
Step 1. Give children two craft sticks and four small craft eyes. Instruct them to use the craft eyes to create faces for the sticks to create puppets (see image).
Step 2. Give kids small strips of yarn and small triangles of felt to create robes and hair for their Mary and Martha puppets (see image). Help children act out the story of Mary and Martha, reminding them of the important lessons that Jesus taught the women.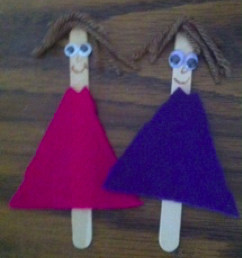 You can also see a list of the types of free, printable Bible activities we provide on the site.
For other related activities, see the links below.