Paul Was Shipwrecked Bible Craft

Note: This craft is also available as a downloadable PDF.
Bible Story: Paul Was Shipwrecked
Bible Text: Acts 27:1- 28:2
Suggested Learning Outcome: This handprint craft will help children remember Paul's adventure on the sea and how God saved him and used him.
Supplies List:
Brown paint
White and another color of construction paper
Crayons
Teacher Preparation: Pre-cut small white squares into sail shapes (see final image below).
Instructions:
Step 1. Give children a piece of construction paper and instruct them to draw an ocean scene (see image).
Step 2. Using brown paint, help children paint the palm of one hand and carefully create a handprint on the ocean scene (see image).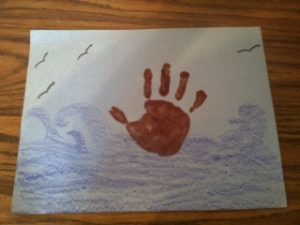 Step 3. Guide children in gluing the three white construction paper squares onto the fingers of the handprint to create sails (see image).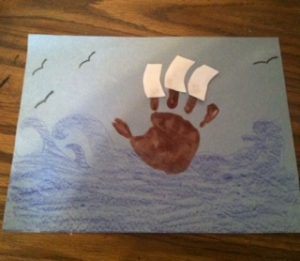 You can also see a list of the types of free, printable Bible activities we provide on the site.
For other related activities, see the links below.