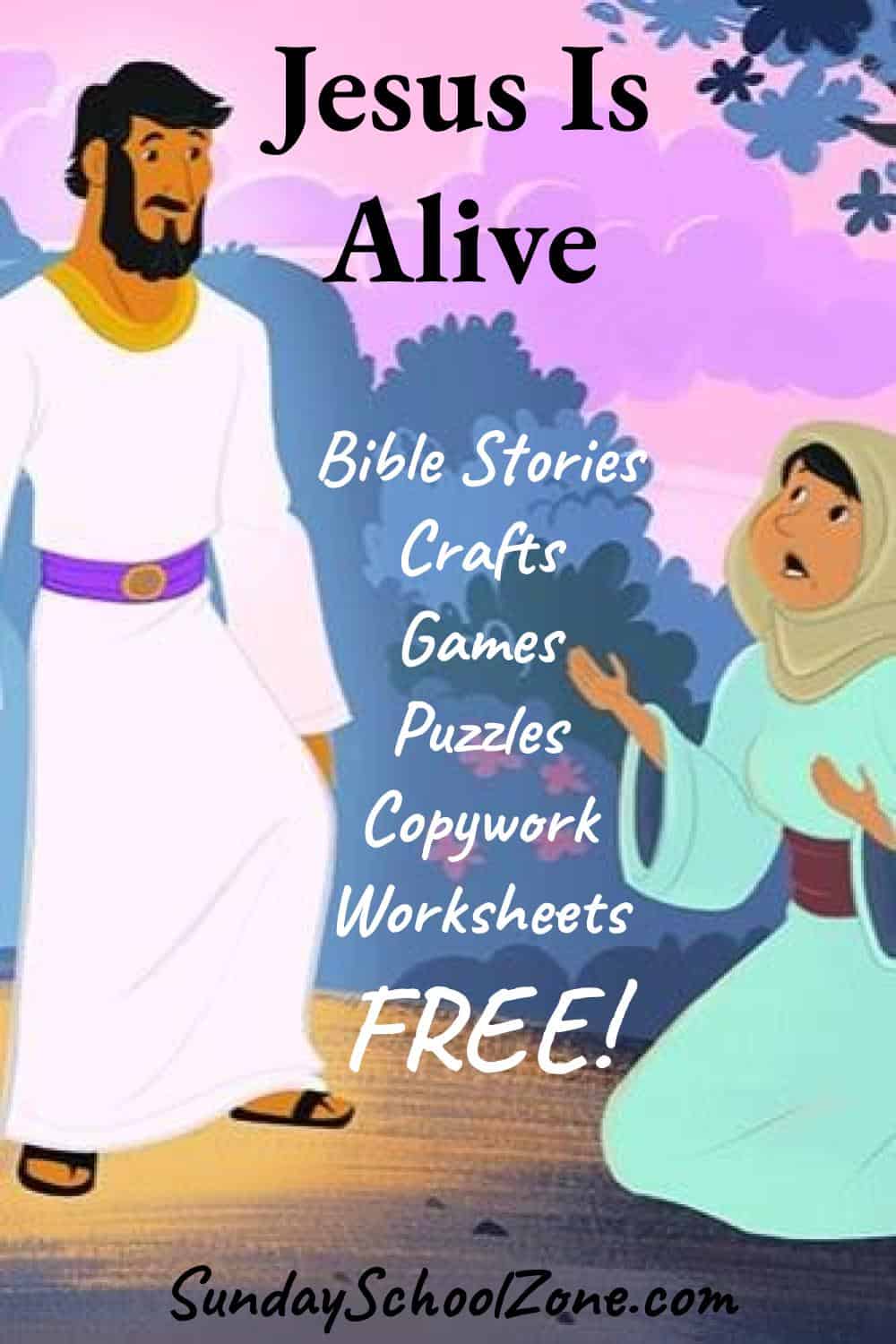 According to Romans 1:4, the resurrection demonstrated that Jesus is the "Son of God." Indeed, the resurrection confirms that Jesus is the long-awaited Messiah of the Old Testament and that He "died for our sins, according to the scriptures" (1 Cor. 15:3). No one was expecting Jesus to be resurrected after the horrible death He had experienced on the prior Friday. And yet, this simple declaration defined the reality that would change the world; Jesus is alive! These Jesus Is Alive! Bible activities are about the resurrection of Jesus.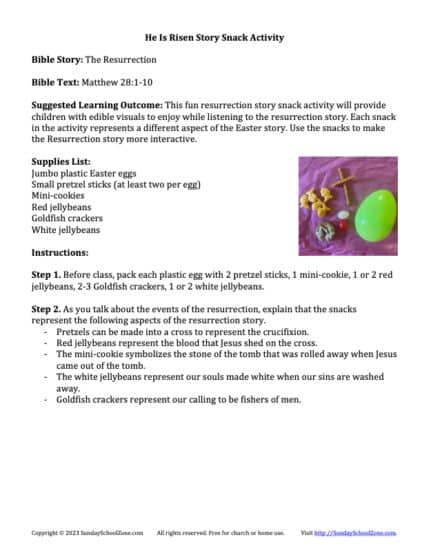 This He Is Risen Story Snack activity will provide children with edible visuals to enjoy while listening to the resurrection story. Each snack in the activity represents a different aspect of the Easter story. Use the snacks to make the Resurrection story more interactive. Children don't have difficulty believing that Jesus was raised from the…
Read More ⇨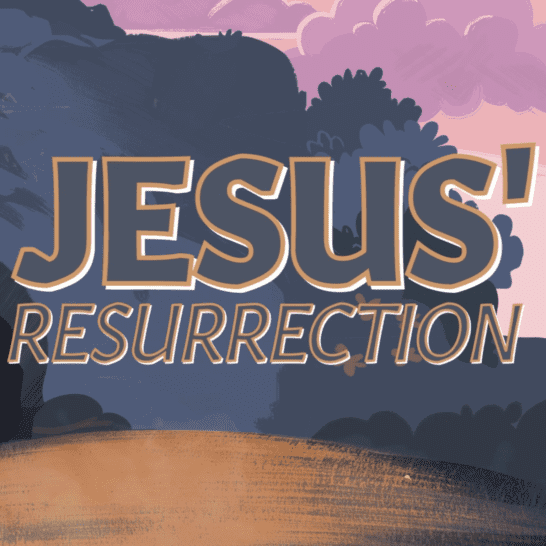 This Jesus Is Alive! Video Story is about Jesus' resurrection and will help kids accept the reality of the resurrection of Jesus. The video can be viewed on the site or you are welcome to download the video for use in class or at home.
Read More ⇨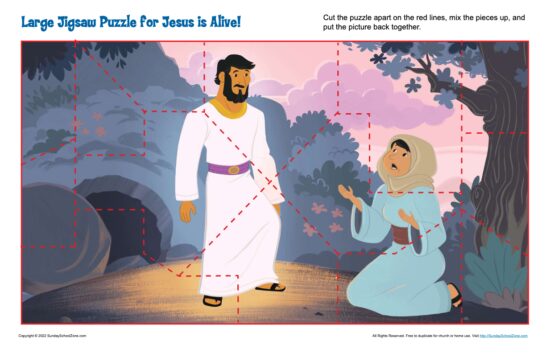 This Large Jigsaw Puzzle for Jesus Is Alive! can help children develop a better understanding of what Jesus did (conquer death) and who He was (the Messiah and Son of God). You can learn more about the resurrection of Jesus here. You can also see a list of the types of free Bible activities we provide on the…
Read More ⇨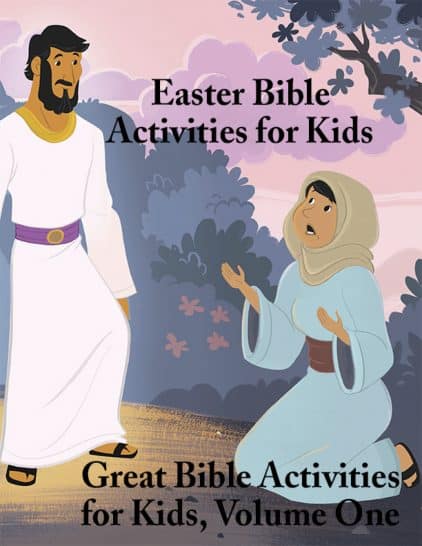 Every sincere Christian parent and/or children's Bible teacher desires to see the children under his or her care come to know Christ personally and then become a follower of the Savior. This 83-page printable PDF is a simple collection of Easter Bible activities for kids and is designed to help the parent or teacher involve…
Read More ⇨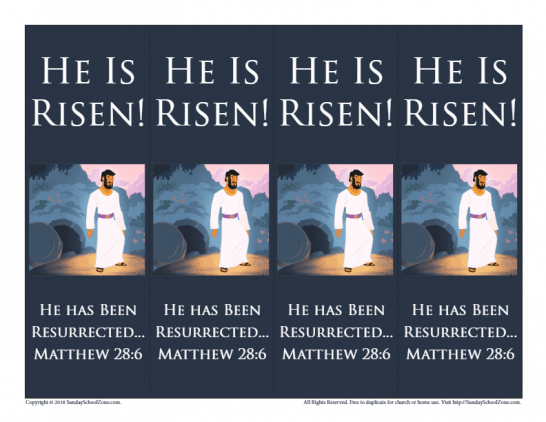 This He is Risen! Easter bookmark with picture will make a great gift for kids on Easter Sunday. It includes an illustration of the risen Lord outside the tomb with the declaration, "He has been resurrected" taken from Matthew 28:6.
Read More ⇨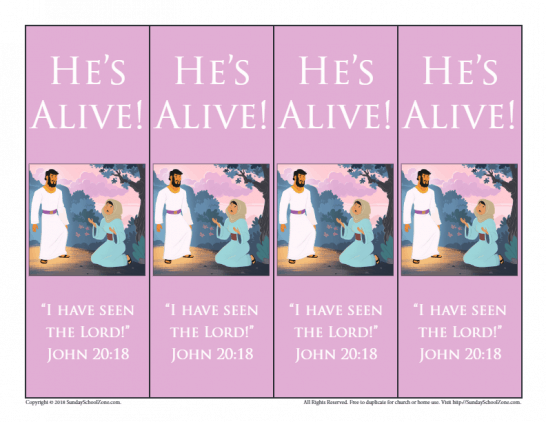 The fact that Jesus rose from the dead means He is alive today. This He is Alive! Easter bookmark will remind children of this truth. The picture on the bookmark shows Mary encountering Jesus that morning. Her exclamation, "I have seen the Lord!" is included.
Read More ⇨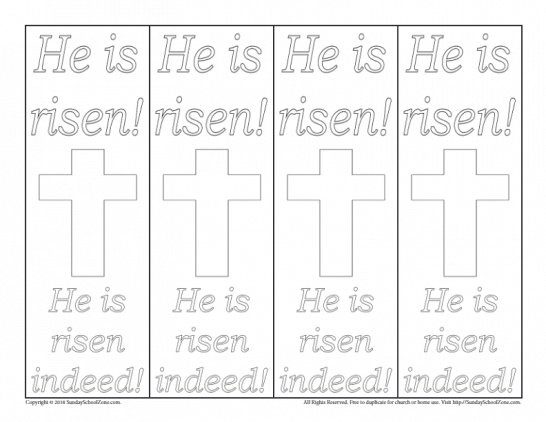 Early Christians would greet one another with the simple statement "He is risen!" and then respond with "He is risen indeed!" Children can continue this tradition with these He Is Risen Indeed! colorable Easter bookmarks and personalize the bookmark by coloring it.
Read More ⇨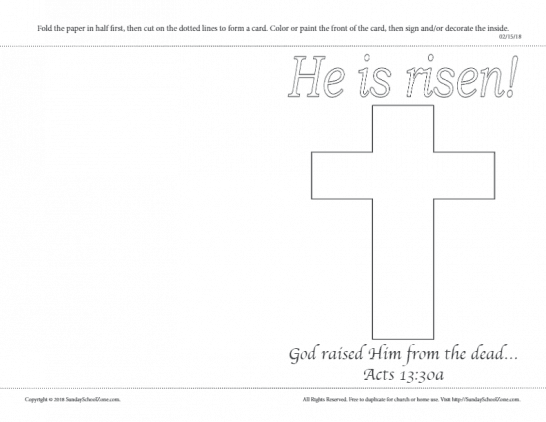 "He is risen!" Early Christians would often greet one another with this simple declaration and respond with "He is risen indeed!" Children can maintain this tradition with this He Is Risen! greeting card with cross image and an excerpt from Acts 13:30.
Read More ⇨