Paul Taught Lydia About Jesus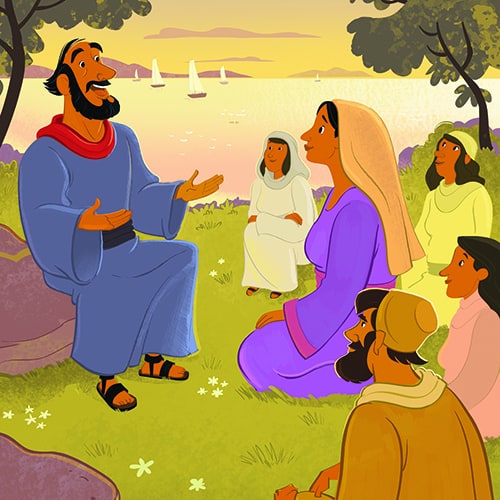 In Acts 16:11-15, we learn that after arriving in Philippi, Paul and his companions had the opportunity to tell a group of women about Jesus. The group included Lydia, who believed and was immediately hospitable to the missionaries. The passage tells us that Lydia was "dealer in purple," which probably suggests she was relatively wealthy. The Bible lesson activities below highlight this event in Paul's important missionary work.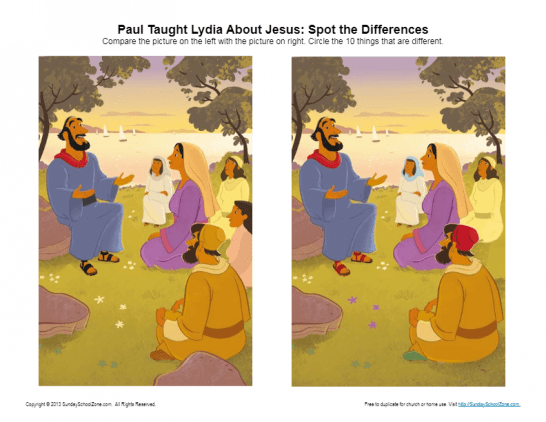 This spot the differences puzzle depicts two pictures of Paul telling Lydia and some other people about Jesus. Can you find all ten differences between them? Answers are provided.
Read More ⇨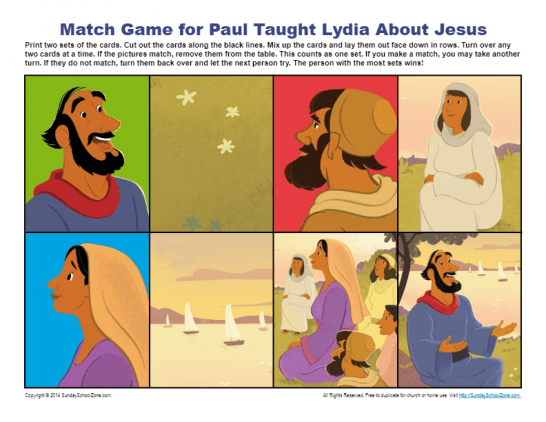 As your children play this match game, you can ask them who and what are pictured on the tiles. This will enhance their learning about Paul's telling Lydia and some other Philippian women about Jesus.
Read More ⇨
Extend your opportunity to talk about Paul's sharing the gospel with Lydia in Philippi by giving your kids an opportunity to work this 10-piece jigsaw puzzle. They'll have fun, and you'll have the satisfaction of knowing that your kids had a chance to work with a beautiful picture of the event. May God bless your efforts!
Read More ⇨