Saul's Conversion (The Apostle Paul)
Before his encounter with Christ, Paul (who's Jewish name was Saul) persecuted the church. Paul was on his way to Damascus as he continued to pursue his quest of jailing and persecuting Christians. There, on the road, he was confronted by none other than the resurrected Christ, and he became a Christian. These Bible activities are about Paul's conversion.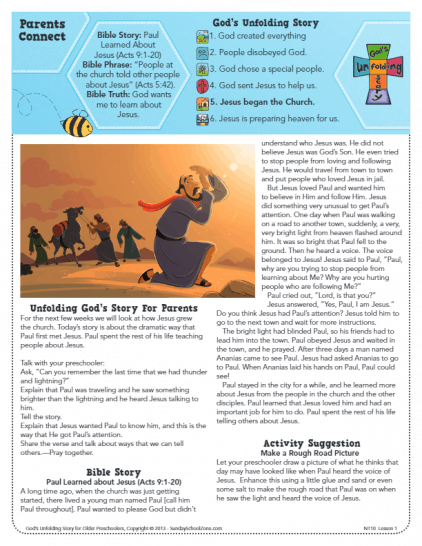 Every lesson from God's Unfolding Story for Older Preschoolers includes a Parents Connect page to help parents or guardians reinforce the lesson at home during the week following the lesson. This is Paul Learned About Jesus Parents Connect Page (NT10L1PC). Click on the Get Activity button below to view and/or download the lesson PDF.
Read More ⇨