The Birth of John the Baptist
Zechariah was a priest in the days shortly before Jesus was born. Zechariah's wife was Elizabeth. They were quite old, but God chose them to be the parents of Jesus' forerunner, John the Baptist. This John would be a great prophet and help prepare the people for Jesus and His message of God's kingdom. Mary, while she was carrying baby Jesus, visited Elizabeth and they celebrated the coming births of these two special children. These activities are about the birth of John the Baptist.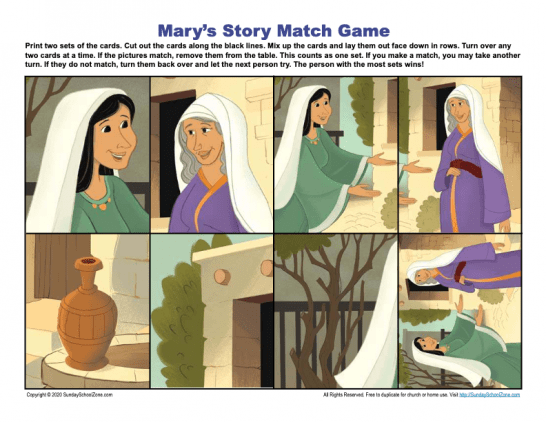 Luke 1:26-56 tells us the Angel Gabriel appeared to a young woman named Mary. Gabriel announced that she would have a special baby—Jesus, the Messiah! This happened before Mary and Joseph were married and teaches that Jesus was special, not just because He was the Messiah, but because He was conceived miraculously by the power…
Read More ⇨
God had been orchestrating the events leading up to the birth of Jesus, the Messiah, since Genesis 3:15. Like other characters in the story of Jesus' birth, John the Baptist was part of God's great plan of redemption and restoration. When Mary, the Mother of Jesus, learned that she would be the mother of the…
Read More ⇨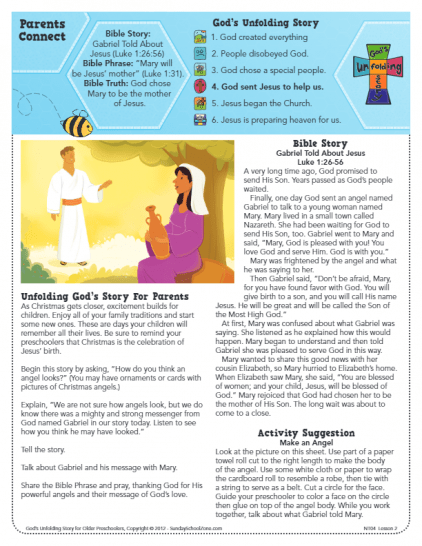 This is the Gabriel Told About Jesus Parents Connect Page (NT04L2PC) for God's Unfolding Story for Older Preschoolers.
Read More ⇨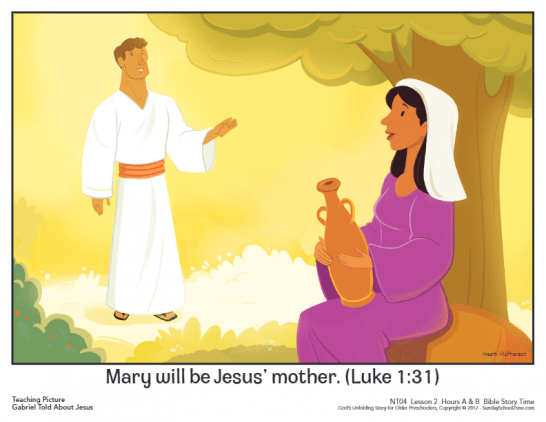 Every lesson from God's Unfolding Story for Older Preschoolers includes a full-color teaching picture for use in teaching the lesson. This is the teaching picture for Gabriel Told About Jesus (NT04L2TP). Click on the Get Activity button below to view and/or download the lesson PDF. You can learn more about Gabriel's Visit to Mary here. You can…
Read More ⇨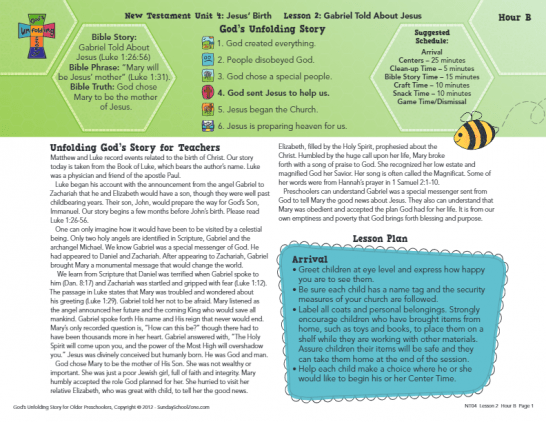 Every lesson from God's Unfolding Story for Older Preschoolers includes two lesson plans (Hour A and Hour B). This is the Hour B lesson plan for Gabriel Told About Jesus (NT04L2HB). It includes the Hour B lesson plan and the needed reproducibles for that plan. Click on the Get Activity button below to view and/or…
Read More ⇨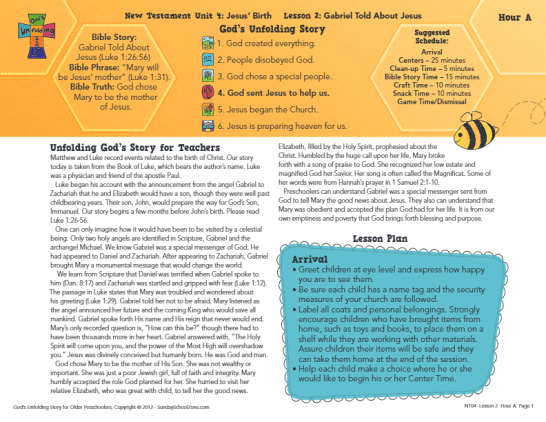 Every lesson from God's Unfolding Story for Older Preschoolers includes two lesson plans (Hour A and Hour B). This is the Hour A lesson plan for Gabriel Told About Jesus (NT04L2HA). It includes the Hour A lesson plan and the needed reproducibles for that plan. Click on the Get Activity button below to view and/or…
Read More ⇨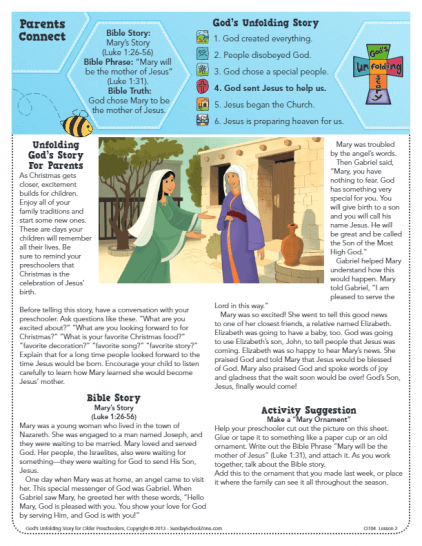 Every lesson from God's Unfolding Story for Older Preschoolers includes a Parents Connect page to help parents or guardians reinforce the lesson at home during the week following the lesson. This is the Mary's Story Parents Connect page (OT04L2PC). Click on the Get Activity button below to view and/or download the lesson PDF. You can learn more…
Read More ⇨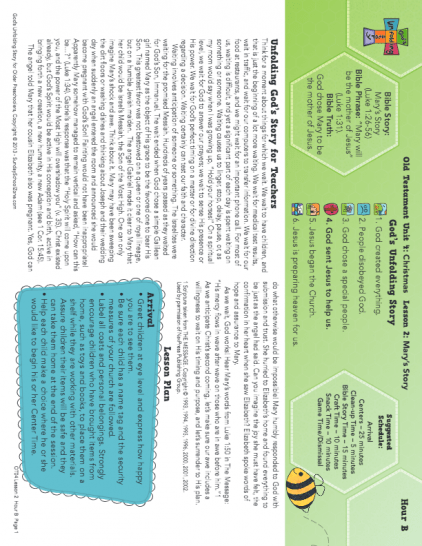 Every lesson from God's Unfolding Story for Older Preschoolers includes two lesson plans (Hour A and Hour B). This is the Hour B lesson plan for Mary's Story (OT04L2HB). It includes the Hour B lesson plan and the needed reproducibles for that plan. Click on the Get Activity button below to view and/or download the lesson…
Read More ⇨