Buildup to Easter, The Week of Sunday, March 24: Mary Anointed Jesus' Feet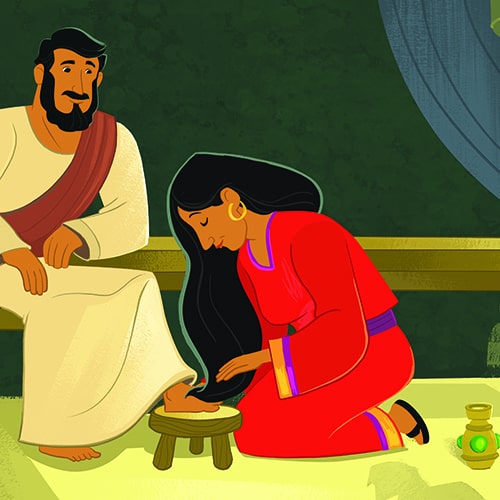 The Sunday School Zone Buildup to Easter continues with the week of Sunday, March 24, 2019, with the story of Mary of Bethany anointing the feet of Jesus. This story is found in Matthew 26:6-13; Mark 14:3-9; and John 12:1-8, but what does it have to do with Easter? This moving event took place just days before Jesus' crucifixion. There's something calming about this simple interlude when we remember the storm of activity taking place all around it that week. Further, Jesus affirmed Mary's actions as an anointing preparing Him for death. Perhaps we need to pause with Jesus and Mary and let our attention fall simply on Him.
What's Going On Here?
Jesus was just days away from "the Passover," which means He knew He was in the final days of His life. Much would happen in the coming week. It would have been a confusing and challenging time for Jesus' followers. They often failed to grasp what Jesus was talking about and this uncertainty would become more intense as they moved toward the cross. We have the advantage of seeing it all from this side of the cross with help from the Gospels. Still, we have to confess that we are often like the disciples in failing to grasp the Lord's message and mission. Like them, we wonder, "What's going on here?"
Simple Devotion to Jesus
Sometimes we can get frustrated by this lack of understanding. The theological issues confronting us when we study the crucifixion and resurrection are significant and heavy. But, we don't need to be discouraged when we come face to face with our lack of understanding. We are not alone. Mary of Bethany is a good example of someone who didn't fully understand what was happening around her in the life and ministry of Jesus, but what she lacked in theological understanding, she made up for in simple devotion. This is the same Mary who sat listening intently at the feet of Jesus while her sister Martha prepared to serve a meal (Luke 10:38-42). There and here Mary demonstrated a simple devotion to Jesus that took priority over other responsibilities.
Jesus would soon die on the cross. It's not likely that anyone at that time (other than Jesus) understood what would soon be happening or why. However, it would be easy for anyone close to Jesus to see that things were changing as they approached the Passover. Jesus was more confrontational with the Jewish leadership than normal. He was more candid about His own death. He seemed to be ignoring the real dangers that existed. Something was different, but none of Jesus' followers really understood what it was. It was in the midst of this crazy and confusing week that Mary paused to demonstrate her simple devotion to Jesus.
We May Not Understand, But…
John explains that Mary anointed Jesus' feet with an expensive perfume and then wiped them with her hair. Judas objected for selfish reasons, but Jesus affirmed her actions, saying that "she has kept it for the day of my burial." It's not likely that Mary fully understood her act in this way, but sometimes our acts of devotion toward Jesus can have an impact beyond our intention.
Children have a beautiful capacity to express a simple but meaningful devotion to and love for Jesus. As we move toward Easter and explore the significance of the cross, it's appropriate at this point to remind ourselves that we, and the children in our care, can express our love for Jesus whether we understand the cross and resurrection well or not.
Prayer
Jesus, we often find ourselves stumbling through days of frantic activity and intense confusion. We want to understand what You did on the cross. We want to understand YOU, but it's not easy. Regardless of what we may understand (or not), we want to lavish our love and devotion on you. In our hearts we bow before you. We pour the best of hearts on your feet and humbly wipe them with our hair. We, and the children we serve, may not understand much, but we can love you much. Help us to do that. – Amen
For Your Kids
You can find a number of free, printable activities related to Mary's act of devotion on the site. Encouraging kids to study this story during the Easter season can help them express their love for Jesus no matter what their age or level of understanding. Other activities and resources related to Easter can also be found on the site.
This has been the week of Sunday, March 24: Mary Anointed Jesus' Feet for The Sunday School Zone Buildup To Easter. To see all weeks, go here.