Bible Lesson Activities About Discipleship
A disciple is a follower of a specific teacher or leader, including, and perhaps especially, Jesus. While the term "disciples" is used to refer to Jesus' twelve closest followers, it also is used in a broader sense to refer to all of His followers, even those who follow Him today. Christian discipleship, therefore, refers to the process of incorporating Jesus' teachings into one's habits and life. These activities highlight various examples of discipleship in the New Testament.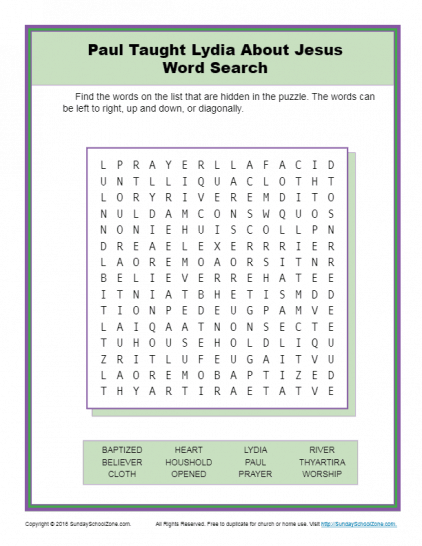 In Acts 16 the Apostle Paul shared with Lydia the love and teachings of Jesus. This Word Search Puzzle will help children learn the importance of sharing Jesus with others and helping them learn and grow in God.
Read More ⇨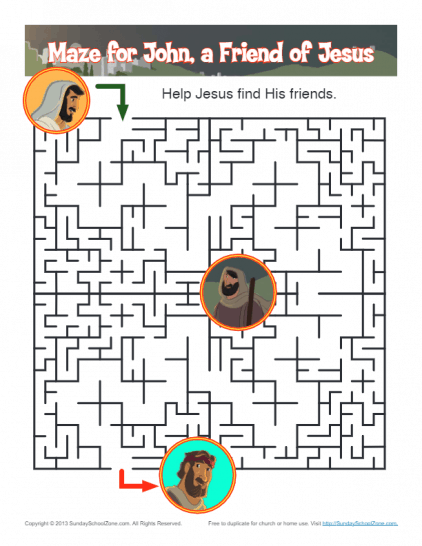 John's love for Jesus is a great example to all of us. This John, A Friend of Jesus Maze will especially help children learn that Christianity isn't about following a list of rules, but is about loving Jesus as a dear friend.
Read More ⇨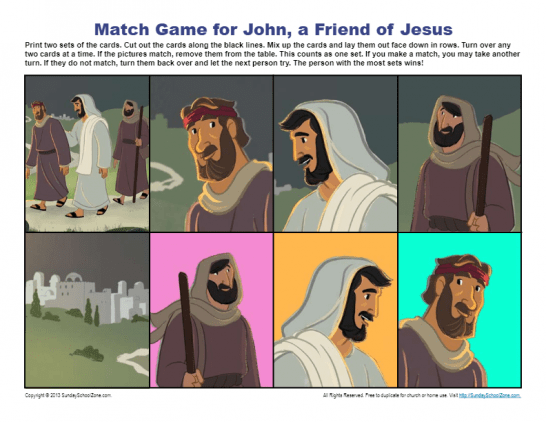 John's love for Jesus is a great example to all of us. As your kids play this fun match game that highlights John's devoted relationship with Jesus, let them know that they also can love and follow Jesus with the same devotion!
Read More ⇨
This simple, eight-piece jigsaw puzzle shows Jesus walking with John and another of His disciples. John's loyalty to Jesus helps us to understand that we, too, can serve Him faithfully.
Read More ⇨
This Bible activity for children shows Paul writing to his friend Timothy. Two pictures that look almost identical at first glance actually are different in 12 specific ways. How many of these differences can your children find? Answers are provided.
Read More ⇨
This match game shows Paul and elements surrounding him as he wrote to Timothy from prison. It's a Bible activity that affords kids fun and a wonderful opportunity to learn.
Read More ⇨
What motivated Paul as he performed his ministry for Christ? This word search puzzle is a Bible activity for children that highlights numerous factors that compelled Paul to serve the Lord. You and your children will have great fun finding these words!
Read More ⇨