Jesus Is God's Son Bible Lesson Activities
One of the most important themes in the Bible is the truth that Jesus is God's Son—and God Himself The Bible lesson activities below emphasize this truth.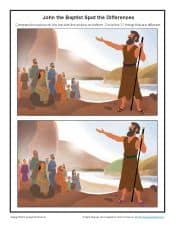 "What is John the Baptist saying to the crowd of people in this picture?" This is just one question you might ask your children as they try to find all the differences between these two pictures. Your kids have sharp eyes, don't they? Let them show you by giving them this activity!
Read More ⇨