Free Bible Lessons for Preschoolers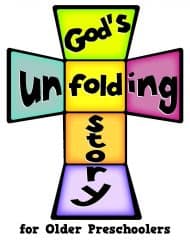 God's Unfolding Story for Older Preschoolers is now available at absolutely no cost. We finally have made the complete transition from selling the curriculum through an online store at ChurchCurriculum.com (no longer active) to making it available for free download on Sunday School Zone. You can download it now at your convenience.
How Can I Get It?
All of the files needed for the two-year curriculum resource are available for you to download at your convenience here on Sunday School Zone. There are more than 100 lessons involved and each lesson contains 4 PDFs. Each PDF is relatively large, so it's not possible for us to place all of the lessons in a single downloadable file. Lesson files must be downloaded individually.
Hundreds of churches have been using this curriculum to help teach their older preschoolers the sweeping narrative of the biblical story. Now we want all churches to have the same opportunity to use this high-quality resource at absolutely no cost.
I Need to Learn More
You can learn more about God's Unfolding Story for Older Preschoolers within our existing pages for interpreting the curriculum. If you encounter references to payment, simply ignore these. It will take us a little time to get all of the information appropriately update.
The vision behind Sunday School Zone has always been to provide quality resources for teaching kids the Bible at little or no cost. We already offer more than 1,200 printable activities that are completely free (and that number is growing). Offering God's Unfolding Story for Older Preschoolers is simply the next logical step in helping churches teach His story to successive generations.
Thank you for considering this resource. If you'd like to give it a try, just click here and start selecting the units and lessons you want to download. If you have any problems, just let us know and we'll get you what you need.
God bless you in your ministry to kids!
The Staff at Sunday School Zone