Free, Printable Bible Activities for Children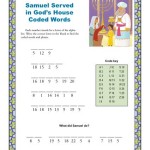 Sunday School Zone is, first and foremost, about helping parents and teachers teach the Bible to kids. One of the ways we do that is by providing free, printable Bible activities that introduce children to Bible stories and people through learning activities that reflect a variety of learning styles among children. Not all children have the same learning style or enjoy doing the same kinds of activities.
Explore the Types of Bible Activities
You can quickly explore the types of Bible activities we provide on the site to see those that you think fit best with your teaching style and the children under your care. Keep in mind that some Bible activities are ready as soon as you print them, while others require cutting, folding, or even additional items such as glue, yarn, etc.
Try Them with Your Kids
We would encourage you to try different types to determine the preferences of your kids. Your children may surprise you with the types of Bible activities they prefer. Remember also that moods change. A child may say no to something this week but be willing to try it next week. They can also be influenced by the preferences of other kids around them. Whatever the case, be willing to experiment with different types as time goes along.
Help Them Learn the Truths of the Bible
Whether you're using these Bible activities at home, in a church, or at school, help the children understand the relevant and appropriate truths associated with the Bible stories. In most cases you'll find appropriate Bible truths or lessons associated with each activity or Bible story summary. You can use the truths as kids are engaging with the activity to help them learn important Bible lessons.
If you have questions or suggestions for us, please email us at [email protected].
If you're interested in writing for Sunday School Zone, please send us an email at [email protected].
Rick Edwards
Author, Speaker, Bible Teacher
See a list of other articles by Rick Edwards.