Free Vacation Bible School Activities (VBS 2019)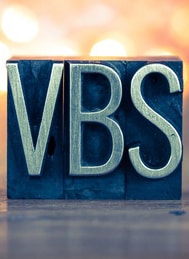 Vacation Bible School is a great opportunity for churches to reach kids and their families each summer. If you're teaching or involved in leading VBS this summer, then you may find yourself searching for free Vacation Bible School activities to supplement your teaching and involve kids in the Bible in additional ways. This article lists many of the stories being covered by VBS curriculum published by some of the major publishers this summer. If you're looking for activities related to a story that's not listed below, it's because we either don't have activities for that story or we don't know about it. If the story isn't listed below, do a quick search for the story in the search field above to see if we have activities for that story.
If you use the Christian Flag and Pledge to the Christian Flag in your Vacation Bible School, we also provide several activities and resources to help you teach about the flag and pledge.
All of the printable activities on Sunday School Zone are free to use for churches, schools and parents interested in teaching children the Bible. The activities are NOT usable for any commercial purpose. You can also see a list of the types of activities we have on the site or a full list of stories we cover.
Jesus' Baptism by John the Baptizer
The Resurrection (Jesus at the tomb)
Crossing the Red Sea (the Exodus)
Jesus Healed a Man Lowered Through a Roof
Prophets Foretold the Birth of Jesus
We hope you find these free Vacation Bible School activities helpful as you prepare and lead a fabulous week of VBS!