Bible Story Summaries and Profiles
Bible story summaries are designed to help teachers or parents of children tell the story in a way that is engaging and appropriate for them. You should always seek to adapt the story as needed to make it appropriate for the kids under your care. Each Bible story summary contains a story title, the Bible text for the story, one or more Bible story truths to help parents or teachers communicate core truths about the story, and a kid-friendly summary of the story. The story summary is also available as a PDF you can get by clicking on the Get Activity button at the bottom of the story summary page. Story profiles are a little different, but are also included in this list.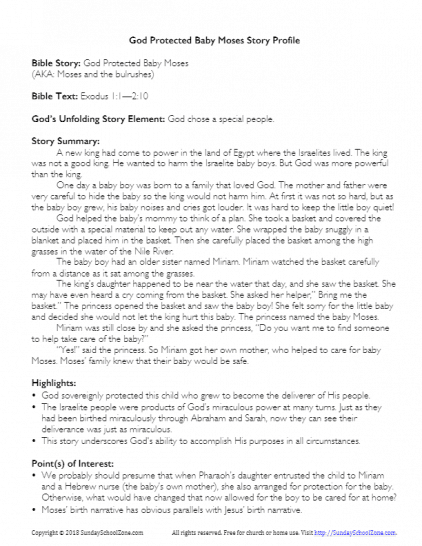 This story profile provides a simple overview of the story of Moses and the bulrushes along with highlights and relevant points of interest based on the text. The story summary is written for kids. When possible, we try to provide an approximate date for the event.
Read More ⇨