Resurrection (Easter) Sunday Activities
The Easter season involves more than just a single celebration about the resurrection of Jesus. The weeks leading up to Resurrection (Easter) Sunday also remember Jesus' Triumphal Entry (Palm Sunday), Maundy Thursday (Jesus' final Passover meal with His disciples), and Good Friday, the day when we remember Jesus' crucifixion. All of these events point to Jesus' mission and identity as the Messiah King of Israel. On Sunday morning following His crucifixion on Friday, God confirmed that Jesus was, indeed, the long-awaited Messiah and King of Israel. Paul later noted that Jesus "has been declared to be the powerful Son of God by the resurrection from the dead..." (Rom. 1:4). The resurrection (Easter) Sunday Bible activities below are about this world-changing event!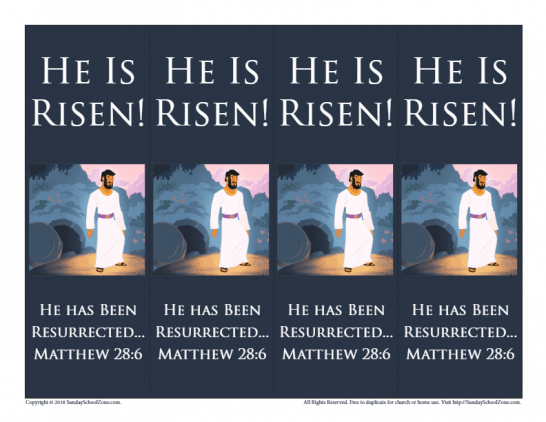 This He is Risen! Easter bookmark with picture will make a great gift for kids on Easter Sunday. It includes an illustration of the risen Lord outside the tomb with the declaration, "He has been resurrected" taken from Matthew 28:6.
Read More ⇨