Teaching God's Unfolding Story to Kids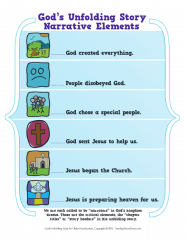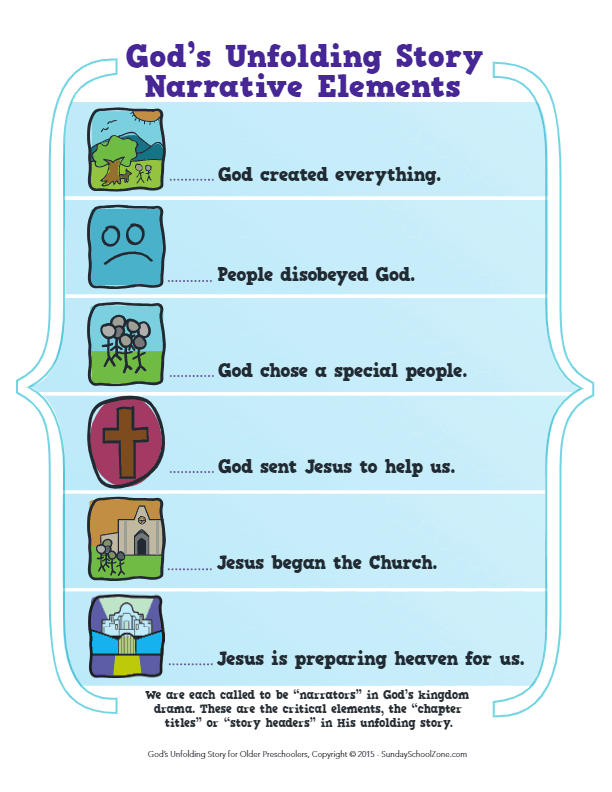 The Bible is filled with stories, but it also tells a single, ongoing story. We call this story God's Unfolding Story. Teaching the biblical story is an important aspect of children's Christian education, but it is often neglected in Bible study curricula for children. Sunday School Zone provides a number of free resources that will help you teach the biblical story to kids regardless of the curriculum you may be using.
This brief article will cover the educational rationale for teaching kids the story of the Bible while also providing a practical framework and free resources for teaching the story as a complement to any children's Bible curriculum the church may already be using.
Why Teach the Biblical Story?
Children need to know the story of the Bible for three reasons…
1. It gives them a scheme for placing all of the individual pieces together in a way that makes sense. The biblical story (God's Unfolding Story) is the "box lid" for all of the "biblical puzzle pieces."
2. Only the broader biblical narrative can communicate the ongoing nature of the story. Without understanding that the story continues, kids can't see themselves as part of the story.
3. Without an overarching narrative, the Bible becomes little more than a collection of fables containing lessons. (Fables make the Bible about US while the story is really about HIM.)
Three Things Can Help Kids Learn the Story…
1. A framework that's easy to learn and remember. (We've created that.) You can find God's Unfolding Story Narrative Elements as a downloadable PDF on the site. These elements were written for preschoolers and can be enhanced for older age groups, but we have found that even adults like the simplicity of these six elements.
2. Graphic representations of the story elements to help children visualize and remember them. (We've also created these.) You can see the icons for each story element in the same PDF.
3. Regular, repeated exposure to the framework (story elements) over an extended period of time. In order for children to retain this kind of framework, they will need to hear it many times over the course of months. You can do this by taking five minutes at the beginning of each session to review the story and place that day's story in its larger context.
Free Resources On Sunday School Zone
Can you imagine the difference it could make in a child's life to understand that God's story is still unfolding and that they are a part of it?
Rick Edwards
Author, Speaker, Bible Teacher
See a list of other articles by Rick Edwards.