When Joseph, who was betrothed (similar to an engagement) to Mary, learned that Mary was pregnant, he was bewildered and hurt, believing she had been unfaithful to him. But, Joseph didn't want to hurt her. So, he determined to divorce her quietly so as not to cause her public shame and embarrassment. But then an angel appeared to Joseph and explained that Mary's baby was special because the Child would be conceived of the Holy Spirit. These Joseph Told About Jesus Bible activities are about Joseph's learning the truth about Mary's baby and how he, in turn, told Mary about Jesus.
Sharpen your pencils and give your children a chance to unscramble these five words relating to Joseph's dream and God's instructions through an angel that Joseph marry Mary and name her child Jesus.
Read More ⇨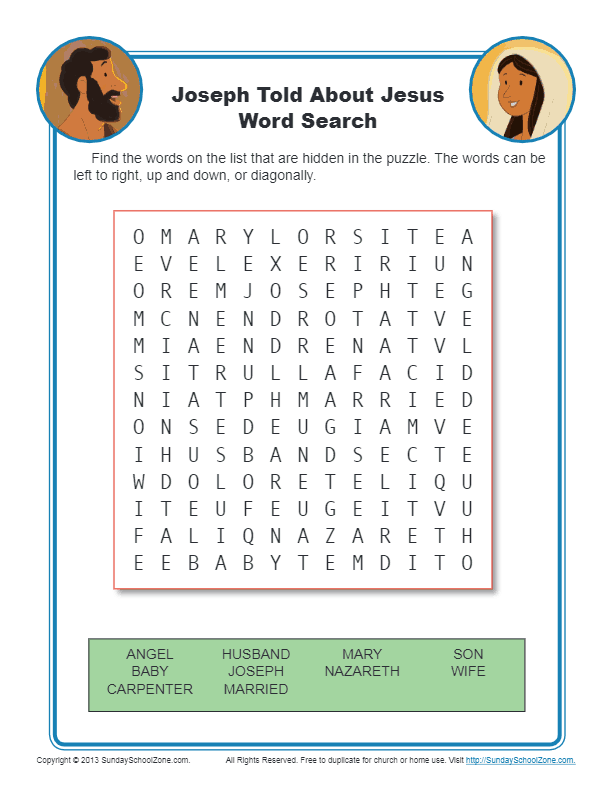 When Mary and Joseph married, they knew some important things many others did not know. Both of them had received instructions from God about Jesus! This word search puzzle highlights 10 things surrounding the instructions Joseph received from God in a dream. Don't just let your children see if they can find all 10 words—see if you can too.
Read More ⇨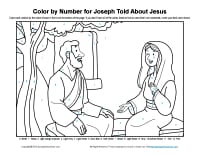 Mary and Joseph knew that Jesus, who was growing inside Mary's body, was God's Son. This color by number activity shows them as they got together after Joseph's dream. Many people would not understand the special circumstances surrounding Jesus birth—but Mary and Joseph lived through them, and they trusted God in the midst of it all.
Read More ⇨