Word Scramble Bible Activities for Children
Word scramble puzzles really are word unscramble puzzles. The word scramble activities below highlight various Bible events and situations. Click on the title of an activity to be taken to a web page where you'll be able to download it.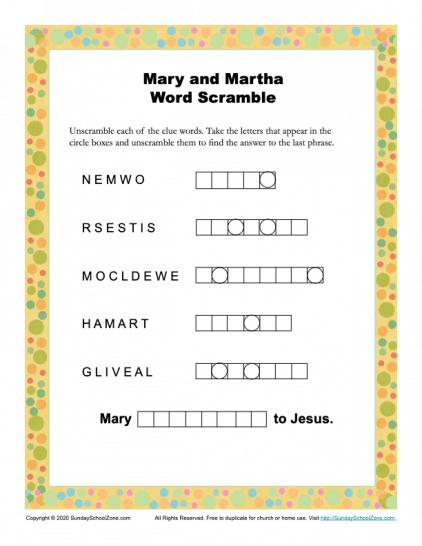 In Luke 10, we learn that Jesus stopped by for a visit with some of His friends, Mary, Martha, and Lazarus. While He was visiting in their home, Martha became flustered with all the hard work she needed to do in order to serve the crowd, because her sister, Mary, was simply sitting at Jesus'…
Read More ⇨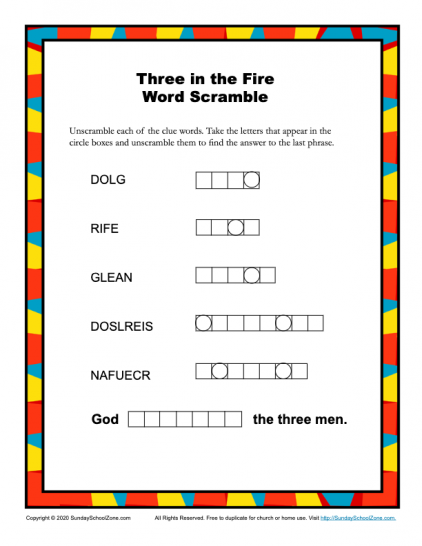 The story of Shadrach, Meshach, and Abednego in the fiery furnace (Three in the Fire) is as familiar to many as it is dramatic. These were young Hebrew men living as exiles in Babylon after Judah was conquered by King Nebuchadnezzar. They had risen to positions of power in the Babylonian court, but when the…
Read More ⇨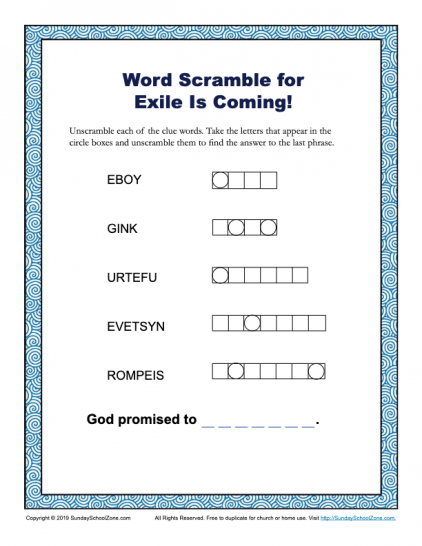 Jeremiah was a prophet to the southern kingdom of Judah for a few years before and after 600 B.C. He lived during the tumultuous time leading up to and following the destruction of Jerusalem and the temple by the Babylonians (under Nebuchadnezzar) in 587 B.C. Jeremiah was called on by God to deliver a very…
Read More ⇨
Also known as the story of the Samaritan woman, this familiar story, found in John 4:1-42, points to the global scope of Jesus' ministry. He didn't just come for the Jews. Jesus came to save all people who believe in Him regardless of their past or race. And while that's the main point of the…
Read More ⇨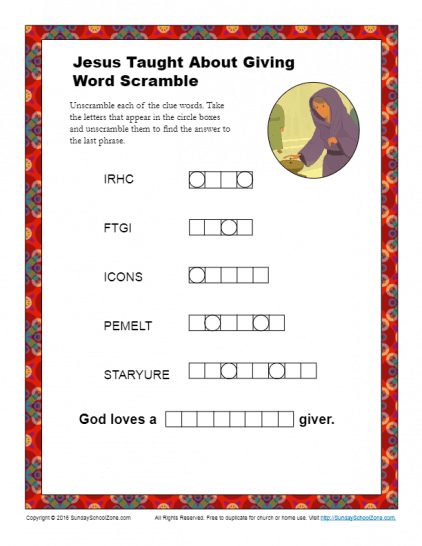 In Mark 12, we read the story of the poor widow's offering. In this story, Jesus was more concerned with the spirit of her gift than its size. This Jesus Taught About Giving Word Scramble will help kids remember that God wants us to be cheerful givers.
Read More ⇨
Noah trusted and obeyed God even though he did not understand everything God was doing or was going to do. This word scramble activity will help kids understand the importance of trusting God even when they may not understand all God is doing.
Read More ⇨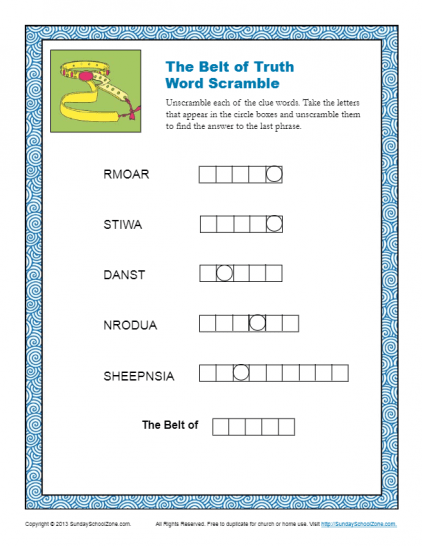 This word scramble activity, based on Ephesians 6:14, will help children learn that the Lord provides the armor and weapons we need to live our lives as He desires. In this instance we are encouraged to treat truth like a belt. This is just one of the pieces of armor Paul describes in Ephesians 6.
Read More ⇨
Elijah was used by God in a special way to show the nation of Israel that God is in control of everything, even the weather. This word scramble activity will help kids learn to trust God and remind children that only God is in control of everything.
Read More ⇨