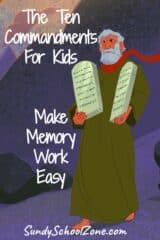 The Ten Commandments were given by God to His people centuries ago and continue to provide a framework for understanding what God expects from us and how we are to treat one another. Learning the Ten Commandments should be among the basic Bible skills that children learn when they are young. Learning such things at a young age will make them easier to remember as kids mature into adults.
Sunday School Zone has a number of free resources that can help the Christian parent or Bible teacher understand the 10 Commandments for kids and teach them to the children for whom they are responsible.
Interpreting the 10 Commandments for Kids
This article provides a simple historic and interpretive overview of these foundational biblical mandates. It provides a brief summary of each command along with some interpretive comments. This article isn't for kids as much as it is for parents and teachers who need to understand the 10 Commandments before they attempt to teach them. As with most things in the Bible, the text of the 10 Commandments is both simple and deep. This article will help you begin to explore its depths (while recognizing we never get to the bottom of any part of God's Word) and is available as a blog post and a downloadable PDF.
Printable Activities About the Ten Commandments
All printable Bible activities on Sunday School Zone are free and come as downloadable PDFs. The following activities are related to the 10 Commandments…
Scripture Pages
Scripture pages or posters on Sunday School Zone are professionally-designed pages with selected texts so kids can place the page on a wall or mirror as a way to remember and review what they have learned.  The following Scripture pages are related to the Ten Commandments.
The Ten Commandments provide timeless principles for both individuals and society as a whole that foster healthy lives to the glory of God. The younger a child is when they learn the 10 Commandments, the more likely he or she is to remember and respect them for life.
Rick Edwards
Author, Speaker, Bible Teacher
See a list of other articles by Rick Edwards.