God Gave Moses The Ten Commandments
After God delivered Israel from Egyptian slavery, He brought them to Sinai where He entered into a covenant relationship with the people and gave them a large set of laws that would govern how they were to live before Him and one another. Core to this larger set of laws was a shorter list that we now call the Ten Commandments. These 10 Commandments provide a wonderful framework for kids (and adults also) to understand the Lord's expectations for all people. The Ten Commandments Bible Activities listed below highlight the encounter in which God gave Moses the tablets containing the Ten Commandments.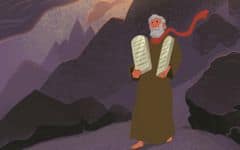 The story we call "God Gave Moses His Laws" is about God giving Moses the 10 Commandments in Exodus 20. This video highlights insights and points of interest you might want to make as you teach the story to kids.
Read More ⇨