Esther and the King Bible Craft

This paper bag puppet craft will help children learn about the amazing story of Esther and the king as well as act out the story. The story is found in the Book of Esther. Not only is the craft simple and easy to make for the kids, it will reinforce the willingness of Queen Esther to be brave for the Lord and how He used her to save His people.
Note: This free craft is also available as a downloadable PDF.
Bible Story: Esther and the King
Bible Text: Esther 2–9
Supplies List:
Brown lunch bags
Yarn
Crayons
Craft eyes
Yellow construction paper
Glue
Craft sequins or craft jewels
Teacher Preparation: Pre-cut small crowns from yellow construction paper. You can also pre-cut lengths of yarn, long yarn for Queen Esther and short pieces of yarn for the king.
Instructions:
Step 1. Give students a yellow crown and explain that they can decorate their crown either for Queen Esther or for the King. Allow the students to decorate the crowns with crayons, craft sequins or craft jewels.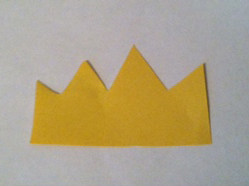 Step 2. Give each student a lunch bag and lengths of yarn, either long or short, depending on whether they want to create a Queen Esther Puppet or a King Puppet. Instruct the kids to glue the hair to the top front of the paper bag.
Step 3. Now students can glue the crown onto the hair. Using their crayons and craft eyes, they can decorate the face of their king or queen. Students can use their puppets to act out the story of Esther and the King.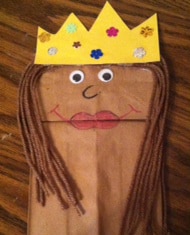 You can also see a list of the types of free, printable Bible activities we provide on the site.
For other related activities, see the links below.