God Made A Promise To Abraham Bible Craft

This beautiful star craft will remind students of God's promise to Abraham when He promised Abraham that his descendants would be more numerous than the stars. The Bible says Abraham believed God and God credited it to him as righteousness.
Note: This free craft is also available as a downloadable PDF.
Bible Story: God Made A Promise To Abraham
Bible Text: Genesis 15:1-6; 17:1-8, 15-19
Supplies List:
Cardstock
Aluminum foil
Hot glue
Colored permanent markers
Teacher Preparation: Pre-cut medium size star shapes from card stock (1 per student).
Instructions:
Step 1. Give each child a star and, using a hot glue gun (teacher only), create strips of glue in zig zag patterns across the star.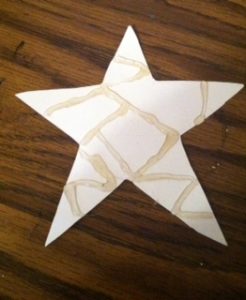 Step 2. When the glue is dry, give each child a piece of foil large enough to cover the entire star. Instruct kids to cover their star in foil using a glue stick, being sure to fold the foil down around the strips of glue to create ridges. Turn the star over and trim away excess foil around the edges and fold back if necessary.
Step 3. Now you can allow students to fill in each section of their star with a different color of permanent marker. This will create a beautiful stained glass effect.
You can also see a list of the types of free, printable Bible activities we provide on the site.
For other related activities, see the links below.