The Fall of Jericho Bible Craft

The famous battle of Jericho is a dramatic story that demonstrates God's great power. This fall of Jericho Bible craft will help children remember the miraculous victory God gave Joshua at Jericho.
Note: This free craft is also available as a downloadable PDF.
Bible Story: The Fall of Jericho
Bible Text: Joshua 6
Supplies List:
Various colors of construction paper rectangles
Glue
Teacher Preparation: Pre-cut a large amount of various colored rectangles from construction paper and draw an ancient wall template, 1 per student.
Instructions:
Step 1. Give each child a wall template and colored rectangles. Instruct children to use their rectangles and glue to build up the walls of Jericho.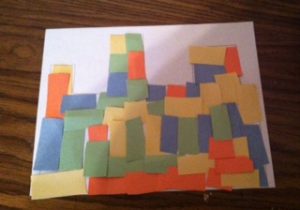 Step 2. When the walls are complete, instruct the kids to flip their paper over and use the remainder of their rectangles to create what Jericho would have looked like after Joshua's victory. Students can use crayons to add more detail if they'd like.
You can also see a list of the types of free, printable Bible activities we provide on the site.
For other related activities, see the links below.