Buildup to Easter, The Week of Sunday, March 31: Jesus Washed the Disciples' Feet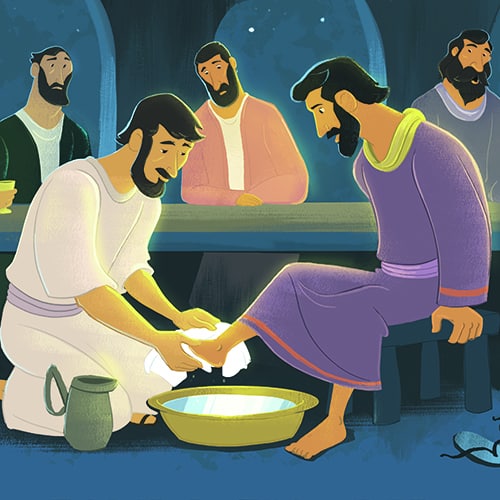 We continue The Sunday School Zone Buildup to Easter with the week of Sunday, March 31. This week we'll consider the beautiful story of Jesus washing His disciples feet in John 13. Why this story? Because it demonstrates, perhaps more than any other, the spirit that would carry Jesus to the cross less than 24 hours later. In the world of 1st century Palestinian Judaism, there would be few things that could be more lowly or humbling than washing someone's feet. That's actually pretty true even today. Foot washing is something to be done by a servant for his or her master. And that was part of the point for John.
Jesus Is God…
Here, the night before He would submit Himself to the humility of the cross, Jesus would first submit Himself to the humility of service to those He came to save. The contrast is not a mistake for John. On the one hand, for John, Jesus is the Word who "was with God" and Who "WAS God" (John 1:1). Jesus is "the One and Only Son from the Father" (1:14). He is the "Lamb of God" (1:29). He is the "King of Israel" (1:49). He is "the One who comes from above" (3:31). He is the "Messiah" (4:25). He is the "Savior of the world" (4:42). Jesus is the One "making Himself equal with God" (5:18). He is the "I am" of John 8:58 and the "resurrection and the life" of John 11:25. The list of things John said about Jesus could go on, but the message is simple and clear… Jesus is God!
And Because He Is God…
On the other hand, Jesus is now the incarnate God humbling Himself and cleansing the dirty feet of His own disciples. The same God who had wrapped Himself in flesh is now wrapping Himself in a servant's towel. Just as Jesus had laid aside His divine royalty and presence with God (1:1), now He "laid aside His robe" in order to serve.
For us, this feels like a contrast. The King of glory has become the lowest of slaves. For John, however, there is no contrast. Jesus isn't serving in spite of His divinity, but because of it. This is what God does when He loves "to the end" (13:1). This is the character of God. This is Who He is. This is what God does when He comes to redeem and restore. This is what God does!
Sacrificial Love
We live in a day when service is not fashionable, even among Christians. Sadly, this has always been true. Human arrogance never wishes to bow in humility, submission, and service. Human arrogance never wishes to place others first. Human arrogance never wishes to sacrifice for the sake of others. Nevertheless, Jesus demonstrates here that this is the way of God's Kingdom. This is the way of Jesus. This is the way of God. Loving service is divinity in action!
Resurrection Sunday (Easter) is just three Sundays away. How will Jesus' death and resurrection make a difference in your life this Easter season? In what way will the spirit of service that brought Jesus to His knees here in John 13 and to the cross in John 19 be the spirit that characterizes your life in these days?
Prayer
Jesus, You have shown us in Your very own actions how to live with sacrificial love. Because of Your sacrificial love, we now have life! Teach us now to live in this same spirit of service and love. May this Easter season be a season of "foot washing" for us (and our children) as well. – Amen
For Your Kids
You can find a number of free, printable activities related to Jesus washing His disciples' feet on the site. Encouraging kids to study this story during the Easter season can help them place the crucifixion and resurrection in its larger biblical context. Other activities and resources related to Easter can also be found on the site.
This has been the week of Sunday, March 31: Jesus Washed the Disciples' Feet for The Sunday School Zone Buildup To Easter. To see all weeks, go here.